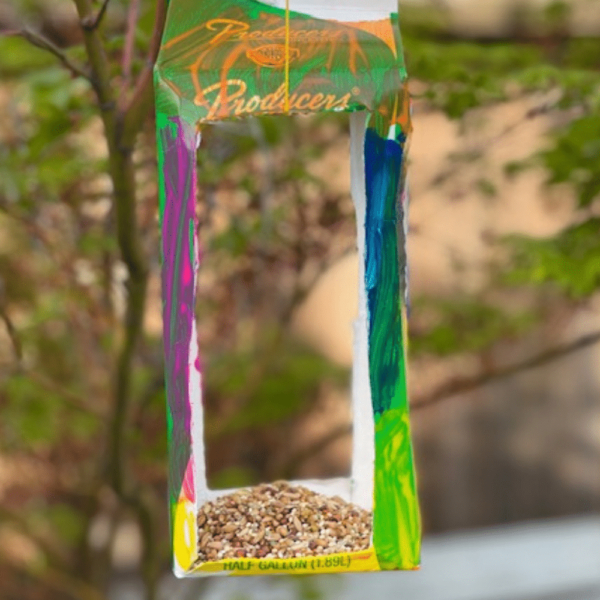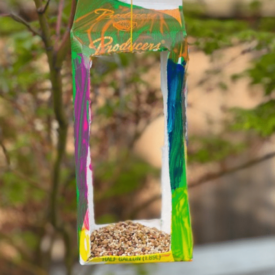 DIY Bird Feeder Preschool Activity

Make An Easy DIY Bird Feeder Preschool Activity
This easy DIY bird feeder preschool activity is made from a recycled milk carton and a few extra items. What a great way to reuse materials and teaching children about recycling all while feeding the wildlife. Using recycled materials is good for our environment and also allows children to use their imagination. They can decide what they want to turn the item into and create their activity.
Upcycled Milk Carton Bird Feeder
Our milk carton bird feeder was so easy and fun to make. Creating art and objects from recycled materials called upcycling can be fun preschool activities. Children love to create art and have it on display. Well, this DIY bird feeder preschool activity is just that! Having their bird feeder hanging in the yard for birds to enjoy will surely bring a smile to their face. What fun for them to watch the birds swoop in to enjoy the birdseed. This bird feeder can be refilled once the birds have eaten all the seeds, or even repainted or decorated with stickers and gems. The possibilities are endless.
Materials and Directions
Paint and paintbrush

Milk carton

String

Scissors

Birdseed
Gather all of your materials

Cover your workspace with newspaper (upcycling)

A parent needs to help younger children to cut the sides of the carton with scissors.

Paint the sides of the milk carton

Let the paint dry

Cut your string long enough to create a loop for hanging

Place the string in through the side openings of the milk carton and tie it at the top of the carton

Find a tree branch to hang your milk carton bird feeder

Add birdseed to the bottom of the milk carton

Watch as the birds enjoy their new bird feeder


Join Us For Fun Preschool Activities
Does your child love to create and learn new art ideas? Consider enrolling them with Growing Brilliant where kids have a blast with online activities with an amazing teacher and peers. Read more about our online preschool here. While you're visiting our website don't forget to click that button for a Free Class!