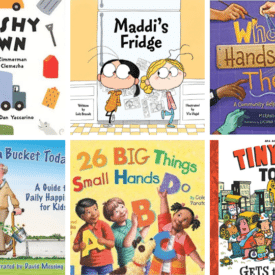 Children's Books About Kindness and Community Helpers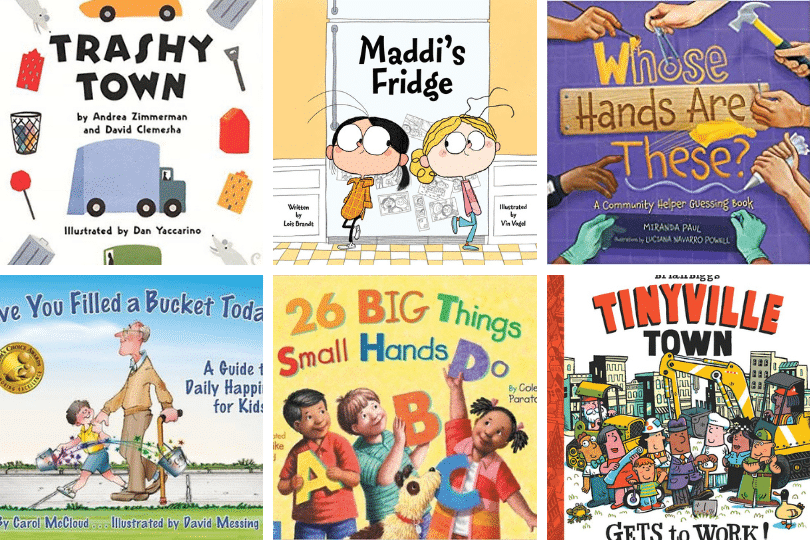 These great children's books about kindness and community helpers will help you talk to your child about the community helpers in their lives and the ways they can be kind to those around them. We're exploring ourselves and our community this month in our online preschool classes and these books are great to read at home to further explore what your child is learning. We've included the links for each book so you can purchase them and have them delivered by a great community helper, the Amazon delivery driver. You can also head to your local library and check the books out from another great community helper, the librarian!
Picture Books About Community Helpers
Your preschooler will love the rhyming verses and the illustrations of the hands as they guess what community helper each pair of hands belongs to. This is a great book to talk more with your child about the kinds of things each community member does.
Somebody has to pick up all the trash that people in our communities create! Have fun following Mr. Gilly around as your child learns all about an important community helper, the garbage collector.
Welcome to Tinyville Town! Come see all the wonderful community helpers that live here and the special jobs each of them do. Fun illustrations and a great sense of community will make this a book you'll read over and over.
Picture Books About Kindness In The Community
Maddi and Sophia are best friends. They live near each other and go to the same school but soon Sophia realizes that Maddi's fridge doesn't have as much food as hers does. Your child will love the silly antics of Maddi and Sophia and you'll love how it does a great job of tackling a tough topic like childhood hunger and how we can help.
Help your child discover all the ways they can make their community better, even with their small hands. This book not only helps to empower young children to be kind and help but also teaches letter recognition.
Your child will delight in their new role as a "bucket filler" and "bucket protector." You'll love that your child will find a new eagerness to be kind in both big and small ways!
Learning how to be a productive member of their community is crucial to a child's social and emotional development. Teaching your child how to be a community helper gives them a sense of belonging and purpose too, and reinforces what they're learning in class. If you're looking for a comprehensive preschool program for your child, sign up for a free trial class today!