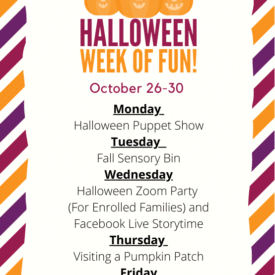 Online Halloween Puppet Show
Halloween Puppet Show
Halloween is quickly approaching and we wanted to have a little fun with a Halloween Puppet Show for our online preschool students and families. Our puppet show engages the children by using their listening and fine motor skills. They listen for cues from Ms. Lisa, answer questions, and sing along. Their motor skills are used when they make hand and finger gestures that correlate with what the song is about. Children love watching puppets and hearing the story or song. It is easy to make your own puppets if you'd like. You can find any cut-out at stores or online. Simply attach to a popsicle stick with glue or tape. Find a story or song to go along with the cut-out, and there you go, a puppet show right in your own home!
What a great Online Halloween puppet show with Ms. Lisa for our virtual preschool! Watch this fun and interactive video to meet our puppet friends and sing along with the sounds they make.
Want to see more events like our online Halloween puppet show?
Join us this Halloween week for more FREE online events. You can find our LIVE Facebook events here: Growing Brilliant Online Preschool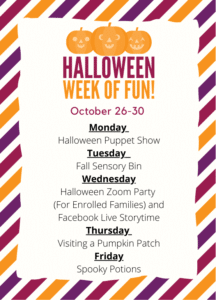 Want to know more about us?
To learn more about our Online Preschool, please visit us by clicking our Growing Brilliant logo here: