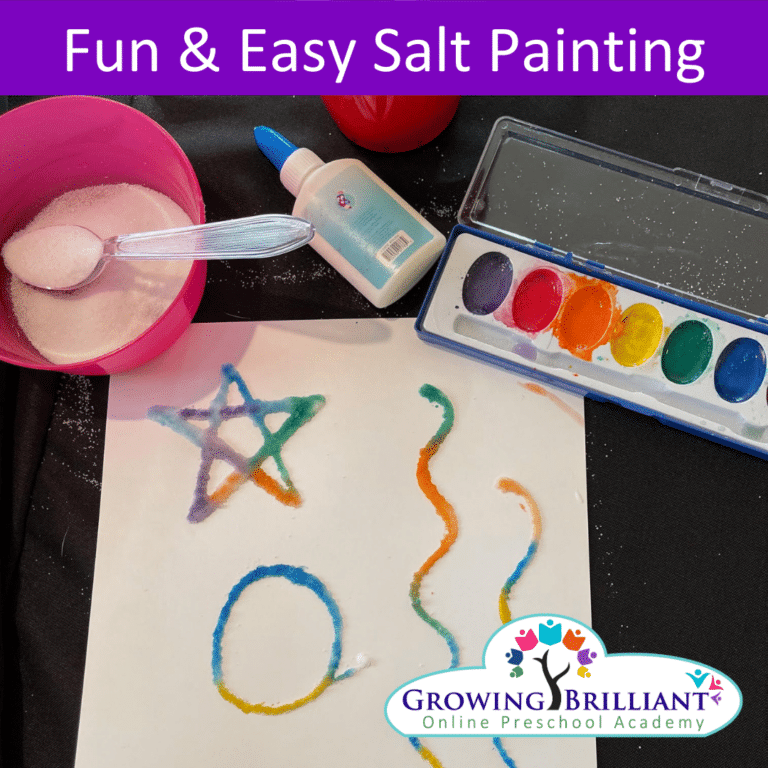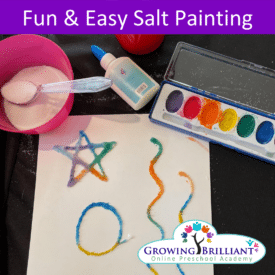 Salt Painting STEAM Preschool Activity
Salt Painting Preschool Activity
Try this simple salt painting STEAM preschool activity. Preschool kids seem to have a great time with crafts such as this when they can see the process from start to finish. This salt painting is easy enough for all ages because it only involves a couple of items to complete a fun science and art activity.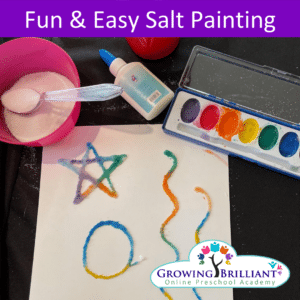 Painting WIth Salt Preschool Activity
Why paint with salt? For one, it's a cost-effective tool that can usually be found in any home. Second, it's absorbent and goes very well with this activity. The STEAM portion of this activity is that the water paint mixed with the salt makes the color "move" across the design. The color absorbs into the salt and takes on the color of the paint. It's so fun to watch as it soaks into the salt and changes the plain white design into a pretty colorful picture.
Salt Painting 101
We used a freehand design with white glue on our paper. You can practically make any design you'd like. You can write words, draw shapes, letters, or numbers. Another idea is to use stencils or cutouts, such as cookie cutters to make your designs. This salt painting activity is a lot of fun and you will want to make more and more! Keep reading to see what materials you will need and the directions on how to complete your own design.
Materials and Directions
Want to make your own salt painting? Here are the materials we used.
White cardstock (or any color of thick paper)

Watercolor paints

Paintbrush

White glue

Salt

Cup of water
Now, let the fun begin! Make your salt painting creation by using the steps listed below.
Layout all of your materials.

Open your glue bottle and begin designing on your paper.

Sprinkle the salt all over your design.

Tap off the extra salt that doesn't stick to the glue.

Dip your paintbrush into the water.

Swipe your paintbrush into any color you like

Dot your painted paintbrush onto a salted section of your design and watch the magic of the paint absorb into the salt.

Keep painting your design with many different colors.

Many Other STEAM Activities
We offer so many other fun activities like this salt painting STEAM preschool activity in our virtual preschool. Come and check us out and enjoy a FREE class! Until you join us, you can try other activities we have saved on our Pinterest boards. Have fun exploring and creating!