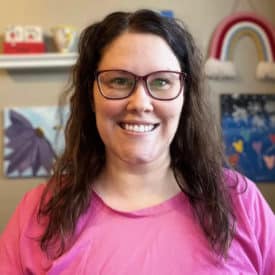 Ms. Kristin
Teacher
Hello! My name is Kristin and I am so excited to be a part of Growing Brilliant! I live in Oakdale, California with my husband, our 3 kids (stepson-11, son-9, and daughter-4), and two spoiled dogs(black lab and beagle).
I am a former elementary school teacher with a Master's degree in Elementary Education. Before having children, I was a preschool teacher for a few years so coming back to my roots makes me so happy! I am a homeschooling mom and have also been an ESL teacher online for students in China.
In all aspects of teaching, there is nothing I love more than to watch those "light bulb" moments for kids as they learn, knowing I had a hand in that. I cannot wait to experience those same types of moments with your child.
When I am not teaching, you can catch me homeschooling my kids or being a giant bookworm curled up under a blanket. I am the biggest Disney fanatic and the Green Bay Packers' #1 fan.