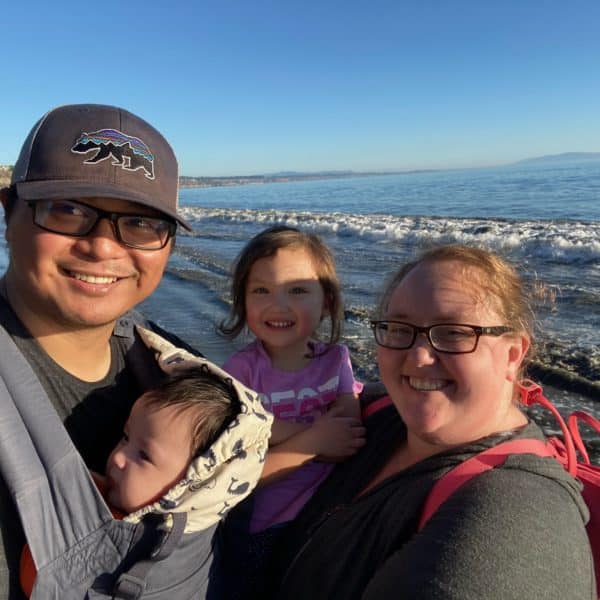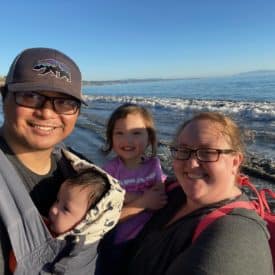 Working At Home During The Pandemic With A Preschool Child
How one Growing Brilliant family is navigating working at home during the Covid-19 pandemic with a preschool child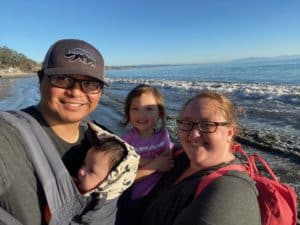 We understand and know first-hand how difficult this past year has been. We are all working together to make this situation a little better. Let's be honest, it can be challenging to juggle a career, children, family, and all that comes along with a busy life. Natalie has a child enrolled in our Online Preschool and candidly shares with us how they navigate working from home during the Covid-19 pandemic and raising a preschooler. Read their story below, A Family's Story: Working At Home During The Pandemic With A Preschool Child
Q: Are you working from home?
A: Yes, Sean works from home 100 percent, and I'm still on maternity leave until January 4th. Then I will be working from home.
Q: Do you have additional adult support to help with your child while you are working?
A: No additional support. To help my daughter during her online class time, I block off the time for her class. I'm fortunate that my employer will let me do that. It's really important to do that because she needs focused attention from me, from someone. She goes to bed around 12:30-1pm, so that whole morning that's when I'm also working, and Sean's working. So she really needs some time within there where she's getting the attention she needs. The dedicated 45 minutes of this is "Maddie time".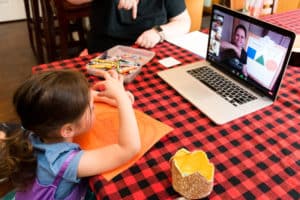 Q: How do you handle stressors while you are working and parenting simultaneously?
A: Sean and I try to coordinate with each other so that we're both not in meetings at the same time. It doesn't always happen, so we try to help Maddie do some independent play. But that's hard to do. Sometimes it works out, sometimes it backfires. The stress of the workday, we're both really lucky from the very beginning that our bosses we're like 'these are precedented times, and if you need to take a half day, you take a half day'. It's been employer support for that.
Q: Do you have a routine or schedule that is effective with working and parenting?
A: Sean gets up with Maddie before I do. He does the beginning of the day because he's more of a morning person. He's able to get her dressed, get her breakfast, and she's up and running. He starts to get ready for work when I wake up. That really helps with our routine. We do the nap time the same. Before there was virtual school going, we really just took the schools schedule and we try to do that. Snack time is at the same time. Nap time is at the same time.
Q: How is your family coping with staying home, parenting, and working during the pandemic?
A: I think that we have actually done really well with it. Right at the very beginning, Sean and I had a conversation. Every couple has levels of cleanliness and what's acceptable. And I said, 'We have to cut each other slack or else we're not going to survive'. We have to tolerate dishes in the sink. We have to tolerate a mess. We're two working people with a toddler.
Q: How has our online preschool helped with your daily routine? Does your child remember GB classes are part of their daily routine?
A: It makes the daily routine possible. No matter what upsets we have, the day keeps flowing. And so we know that we need to get to 10:30 for school. Once we get to 10:30, the rest of the day is set. We get to work on the art project for a little while while I put together lunch. It keeps the mood positive in the morning.
Yes. Today I didn't realize they don't have school tomorrow, and Maddie was like 'why don't I have school?'
Q: What does your learning space for your child look like? Could you submit pictures of your child's workspace? (this helps us help parents set up their child's workspace)
A: We do it at the kitchen table and that way she has plenty of space.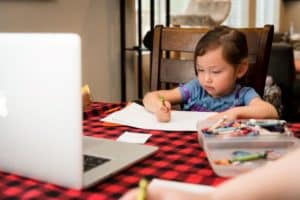 Q: Does your child engage with their teacher or peers? By name? Do they seem to be excited to join class with their teacher and peers?
A: Oh, yeah. She definitely tries to talk to the other kids but she's muted. She'll notice what they're wearing or if they have a particular toy.
Yes, she's excited to join class with her teacher and peers.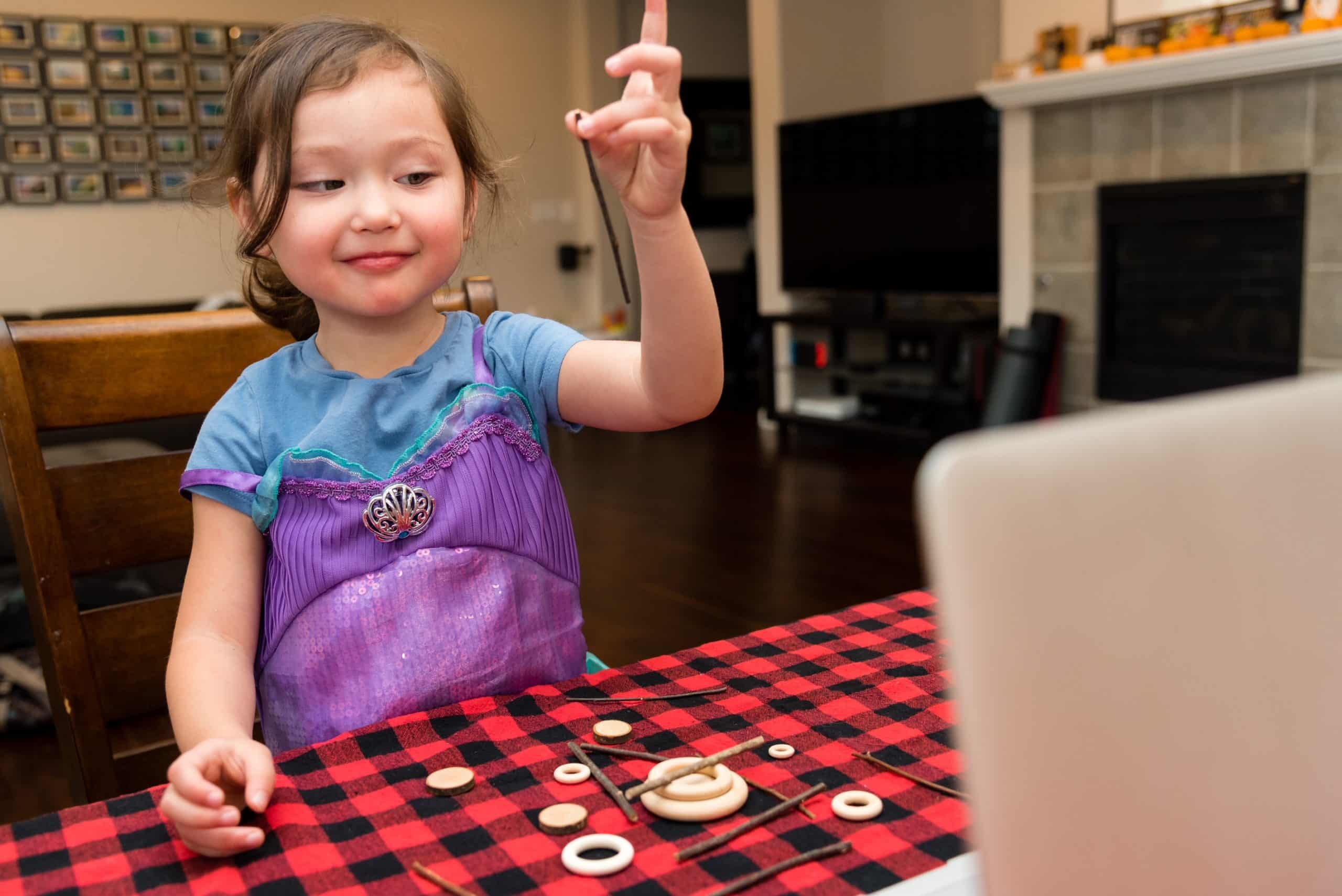 Q: What does your child love most about Growing Brilliant classes? What do you love most about our classes?
A: She loves Where Is? And she loves being able to answer what a shape or color is, or guessing. She loves being called on. She likes all of the music. She loves the art projects. She also likes science experiments, too.
I like everything. I love that it happens. It's a little bit of a break for me. I'm sitting there and I'm walking her through it. But it's not like I'm directing it. Honestly, I like the art projects, too. Sometimes I see the materials and I'm going to do it, too!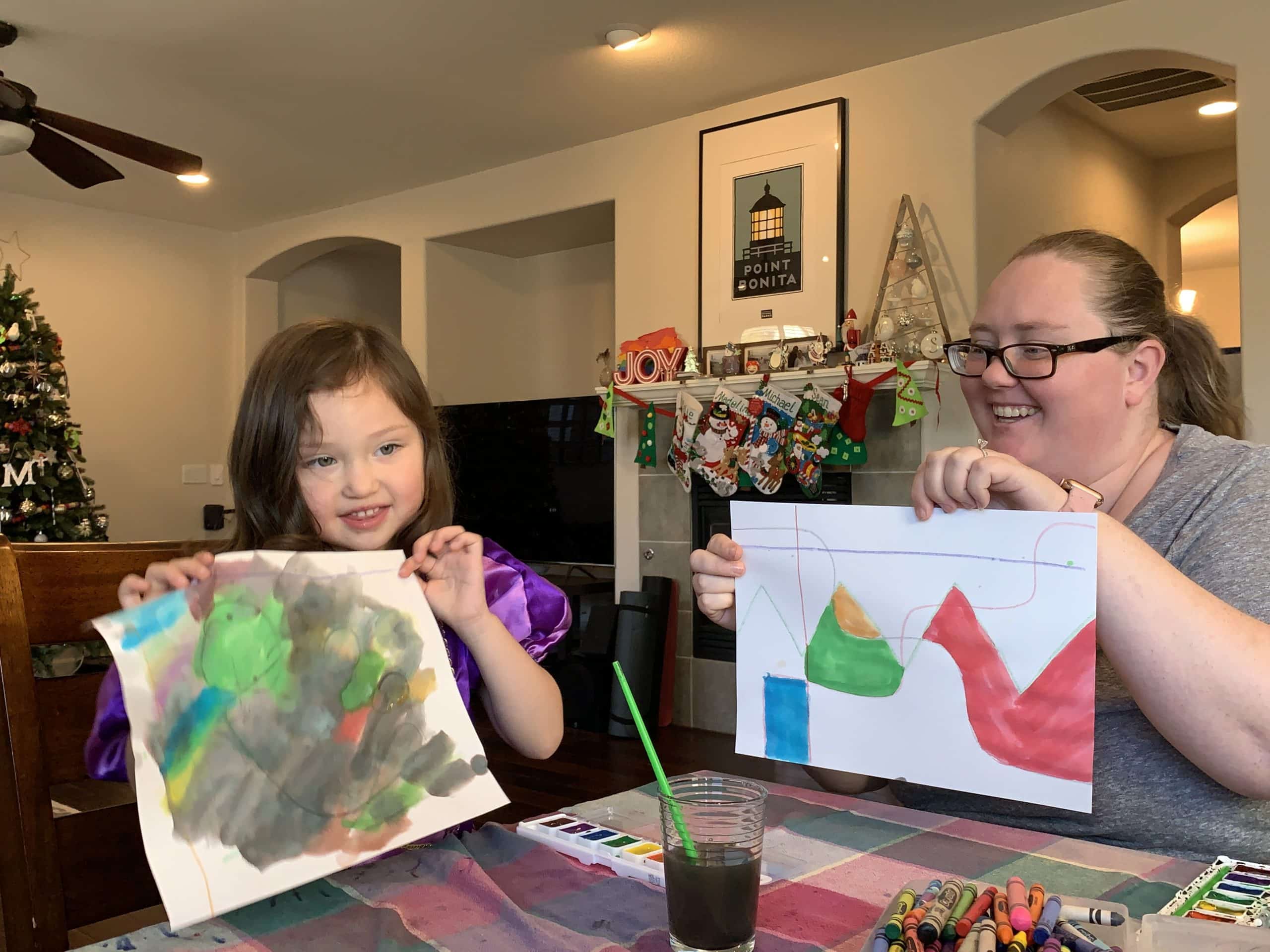 Q: Have you noticed any developmental or social change since they started classes?
A: Yeah, She knows her numbers up to 18, I think, and then she keeps saying 18. She knows all of her letters. She knows the uppercase and lowercase. I think it's because she has to find the letter in her name. She also asks me to write our family's name while we're doing the letter so she can find them. She actually started to figure out words because we were driving the other day and she saw the stop sign, and she said S-T-O-P. I was like, Maddie, you just spelled something, what is that?' Stop sign.
Q: What types of activities has your child participated in or things have they made in class that really stand out?
A: There's just been a lot of awesome art projects. One of the things that she really likes to do is tissue paper, gluing it down or scrunching it into balls and then gluing it. She definitely likes the tactile. She also likes anything with water. The sink or float, she really likes that one.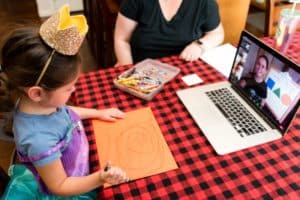 Q: Would you recommend our online preschool to your friends?
A: Oh yeah, yes!
Q: Does your child actively participate in classes or are they soaking it all in?
A: Actively participating.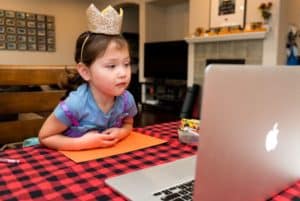 Q: Any final thoughts or feedback for us?
A: Ms. Debora and her friends have really become real people to her. When Ms. Debora was sick, she asked me if Ms. Debora was ok and when will she be back. It's very much real and important to her.
Growing Brilliant would like to thank Natalie for sharing her and her family's experience with how they are navigating working at home with their preschool child during this pandemic. We are grateful for all of our families, teachers, and staff, and wish everyone well.
We are accepting new enrollments, and offering a free trial day. Please click the following link to learn more about our Online Preschool program: Growing Brilliant Online Preschool