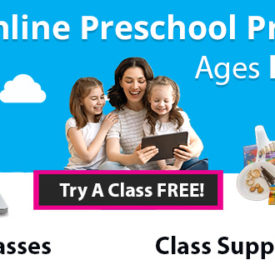 Virtual Preschool Testimonial: A Parents Perspective
Virtual Preschool Testimonial: A Parents Perspective
We pride ourselves on providing an excellent, quality online preschool program for our families and students. We enjoy receiving videos such as this virtual preschool testimonial. As heard in this video from an enrolled parent of our preschool, she is thrilled with our program. Her son is thriving and having fun with the activities, interacting with peers and the teacher. Also, she likes that we supply all of the needed materials for her son to complete the daily class activities. We center our activities and lessons around the items that we send in our curriculum box. There is no need for parents to shop for items that we create in our virtual preschool classes.
Send Us Your Virtual Preschool Testimonial
We look forward to hearing from you, and how much you and your child are loving our virtual preschool. Please send your video testimonial to [email protected]
Are You Ready To Join Us?
We offer a FREE trial class for ages 2 to 6. We know your child will absolutely have a blast and love all the fun activities we provide. Give us a try. Click here to sign up for a free class.