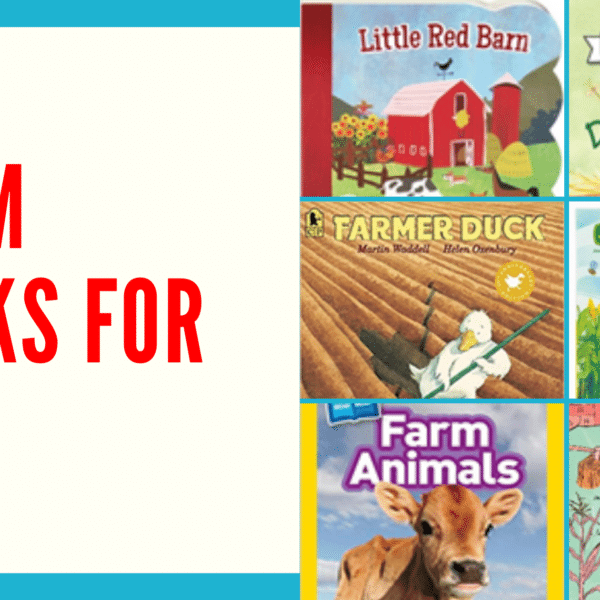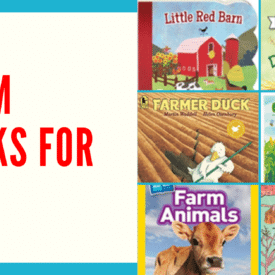 Our Favorite Farm Books for Kids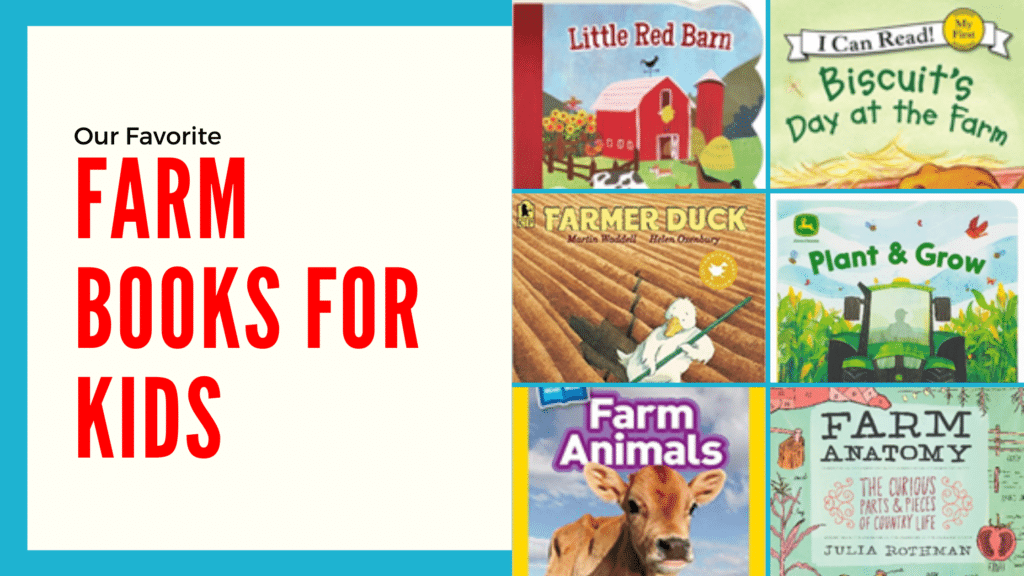 From barnyard animals to tractor rides, there's something about a good farm book that kids just love. There can be so many adventures on the farm while learning so much about animals at the same time! So, in celebration of our "On the Farm" theme this month in our online classes, we put together some of our favorite farm books. Happy reading!
Fiction Farm Books

Introduce your baby or toddler to life on the farm and barnyard animals including cows, horses, bats, and cats in this adorable lift-a-flap board book. Simple sentences reinforce future language structure while grasping and lifting the sturdy flaps helps develop fine motor skills. A perfect first farm book!

Join Biscuit as he helps out on the farm! He gets to feed the animals and make friends with a hen, some geese, and even a little piglet who wants to follow him everywhere. This book is uses basic language, word repetitions, and sight words to make a fun first book for those learning to read.

When the farmer is too lazy to do his chores, Farmer Duck comes to save the day! He cooks, cleans, tends to the fields, and takes care of the animals. However, when farmer duck collapses from exhaustion, his animal friends are there to help. This is a great farm book about teamwork, friendship, and kindness.
Non-Fiction Farm Books
This brightly colored flap book educates your little one with farm facts, tractors, harvesting machinery, and lively rural scenes. This book is thick and sturdy which helps prevent wear and tear from the active toddler and is a wonderful first farm book.
National Geographic Readers is a program for kids to learn about animals and more. The program is developed based on a child's reading level. The featured Farm Animals book is for Level 1 readers which is the Co-Readers group. This group is for those who are starting to learn words and can sound words out with the help of a parent or older reader. This book can be perfect for those getting ready for kindergarten and the beautiful, realistic pictures are great for showing children who are younger.
This illustrated guide dives deep into the curious parts and pieces of rural living. It educates the young ones on so many levels from the different shapes of squash to how to build a barn. It's perfect for a tour of country life!
Learning about farm life is an important piece of a child's education. Farms can teach things like: how to care, love, and appreciate creatures in our world, to have a good work ethic and that the hard work will have a positive outcome, protecting the environment is everyone's job, and that food doesn't just magically appear on our tables. Teaching children about farming doesn't just open their eyes about animals and agriculture but explains to them the benefits of community as well. If you're looking for more ways to educate your young child age 2-6, try a free trial class of our online preschool and see what parents around the world are loving!