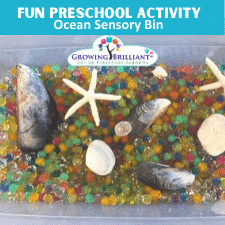 Ocean Sensory Bin For Preschoolers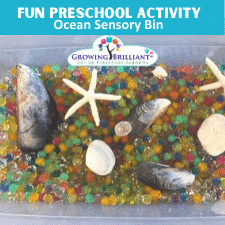 Fun Preschool Activity
Digging into the "sea" of an ocean sensory bin can be an imaginative and fun activity for children. This ocean sensory bin for preschoolers is a fun way to teach your child all about the ocean and ocean life while they enjoy the feel of the water beads running their fingers. Sensory bins are a great way to teach and engage your child and the items in the bin can easily be changed with the different seasons or other topics your child is learning about. Keep reading to learn how to make your own ocean sensory bin for preschoolers.
Make Your Bin
This ocean sensory bin was used with items found at our last visit to the beach and from a craft store. Ocean items can be anything you can imagine finding at the beach or in the ocean. If you can't locate any water beads, try using sand. Water beads are so much fun and they can be used in other projects after the ocean sensory bin is done. Here is how we made our bin:
Materials:
Clear plastic bin. Any size will be fine.

Water beads

Water

Ocean items
Directions:
Gather all of your needed materials.

Add 3 tablespoons of water beads to your bin. Because these water beads expand with water be sure your bin can hold the beads. So if you have a smaller bin, use fewer beads.

Add water to cover the water beads.

Wait at least an hour for the water beads to expand.

Once the beads are finished expanding, add the ocean items to the bin.

Play and use your imagination with the items in your bin.

Finding More Activities
For more ocean activity ideas, visit our Beach/Ocean Theme Pinterest board. We also have how-to blogs for Jellyfish in a Bottle and an Ocean Life Sensory Bag. Our brilliant preschool teachers also have a lot of ocean activities on their May lesson plans for our online preschool classes. Learn more about our online preschool programs or try a free trial class today!