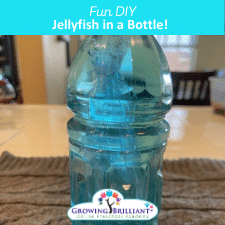 Preschool DIY Jellyfish In A Bottle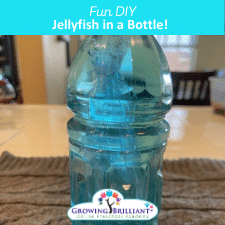 How To Make Your Own Jellyfish In A Bottle
This month our online preschool curriculum is centered around the theme "At the Beach." Children are learning all about the ocean and all of the amazing animals that live there, including jellyfish! This do-it-yourself jellyfish in a bottle activity is perfect for preschoolers to make at home and have some fun. It only requires a few items commonly found in most homes and is another great upcycling activity, like the bird feeder we made last month.
A Fun DIY For Preschoolers
This DIY project is simple and easy to make as well as being fun to do with children of all ages. Learn what materials you need and how to make your own jellyfish in a bottle below. And remember to have fun!
Materials:
Empty bottle. Any clear bottle will work just fine. We used a Gatorade bottle.

Water

Blue food coloring

Gallon ziploc bag

Scissors

White string or yarn
Directions:
Gather all of the materials.

Remove the label from the bottle.

Fill the bottle with plain water but leave an inch from the top.

Add 1 drop of blue food coloring. The more you use the dark the water will become and may be harder to see the jellyfish.

Cut the ziploc along the seams. You will only need one side of the bag. Use the side without the wording. Also cut off the top of the zipper.

To make the head of the jellyfish you will need to find something round to place the ziploc around in order to tie the string around it. You can try placing the ziploc over your fingers on one hand and tying the string with the other hand.

Once you have the head with the string tied around it, cut strips at the bottom of the bag for the jellyfish tentacles.

Turn your jellyfish upside down and fill the head with half water. This will help the jellyfish stay upright in the bottle.

Gently push the jellyfish into the bottle with the tentacles in first.

Secure the bottle lid and then watch the jellyfish move when you turn the bottle from side to side.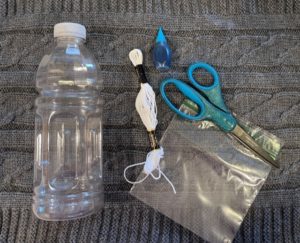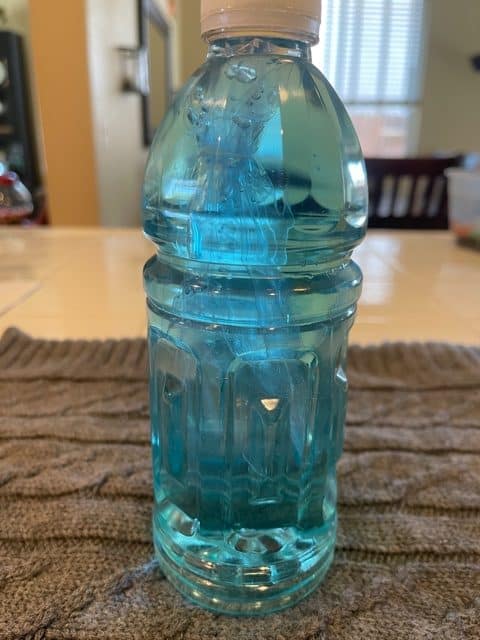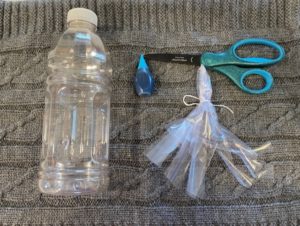 Join Growing Brilliant For More Activities
Growing Brilliant offers in-person preschool classes at our four locations as well as an online, live preschool for at-home learning. Both in-person and online classes offer educational curriculums full of fun and creativity that your child will love. Learn more about our online preschool programs or try a free trial class today!