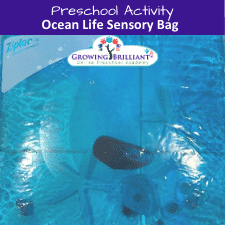 Preschool Ocean Life Sensory Bag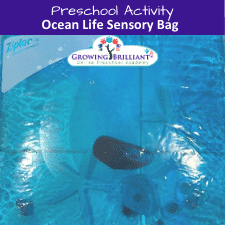 Ocean Life Senses
The ocean is a fun place to play and explore! There are a lot of creatures and things to be found at the beach and in the ocean. This fun, ocean sensory bag is a great way to bring the ocean to your home so your child can see and feel items that can be found at the beach or in the ocean. It's perfect for younger children to play with and older children to assemble, so get the whole family for some ocean fun!
Make Your Own Ocean Bag
This ocean sensory bag is so easy to make and you only need a few items to have fun! For the items inside the bag, you can visit a craft store or use some items collected during your last visit to the beach. Try not to use sharp objects as they may puncture the bag when playing with it. Your child will love the waves and movement of the water and sea life in the bag as they pat and push on the bag. Add some glitter for an extra visual element to the movement of the ocean water.
Materials:
Gallon ziploc bag

Water

Blue food coloring

Sea life items

Glitter (optional)
Directions:
Gather all of needed materials.

Fill the ziploc halfway with plain water.

Add 2 drops of blue food coloring.

Drop in the ocean life items. We used starfish, seashells, clay turtles, and diamonds.

Zip the bag closed. You may want to secure the top of the bag with packaging tape to ensure no leaks.

Lay the bag flat on a countertop or table.

Have fun playing with your ocean life sensory bag!


More Ocean Activities
For more ocean activity ideas, visit our Beach/Ocean Theme Pinterest board. We also have how-to blogs for Jellyfish in a Bottle and an Ocean Sensory Bin. Our brilliant preschool teachers also have a lot of ocean activities on their May lesson plans for our online preschool classes. Learn more about our online preschool programs or try a free trial class today!