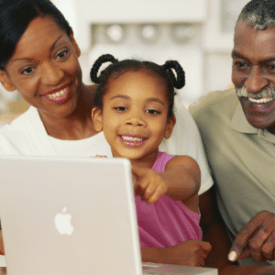 Virtual Preschool is being used by Nannies and Grandparents
Have a Nanny or Grandparent Watching Your Child? Try Our Virtual Preschool.
Parents with Nannies, Au Pairs or Grandparents as caregivers enroll their child in our Virtual Preschool. They use our program to provide fun, educational based activities while watching children. Classes are 45 minutes long, so it gives the caregiver an opportunity to take full advantage of our services. We understand that especially in COVID times, caregivers need extra support and things to do with their children. Enter Growing Brilliant's virtual preschool! Our virtual program offers amazing preschool teachers leading hands-on activities online to help educate, develop and socialize your child. We even ship the supplies needed to participate in class activities.

What Is Our Virtual Preschool All About?
Our Virtual Preschool hosts live classes with our preschool teachers. They educate and guide children through fun activities and lessons. Our live class format is brought to your computer via Zoom with secure login links. Our preschool teacher has a lesson plan with learning objectives such as pre-writing, early math, art, crafts, singing, and more! The children are encouraged to engage and share with the teacher and peers as the class moves along. Our Virtual Preschool offers 45 minute class times for ages 2-6, and with a schedule of 5, 3, or 2 days a week. A variety of art and hands-on learning takes place during class time. We ship all the materials in a box straight to your doorstep with every single item needed for class, and much, much more. This is beneficial so that parents won't need to worry about shopping for or supplying the materials needed.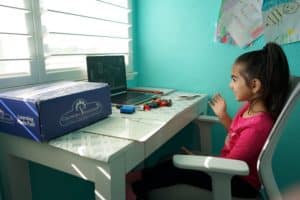 How Much Do Caregivers Love Our Virtual Preschool?
After speaking with a community of Au Pairs, Nannies, and Grandparents about using Growing Brilliant Virtual Preschool, they are delighted and grateful to have such a unique and innovative service available. They enjoy that the classes allow an easy way to bring education and fun into their children's day. What Growing Brilliant's online preschool really does is enhances their child's day. They also love the interactions between teachers and students. One grandparent said, " the art looked like so much fun that I decided to try it, too!"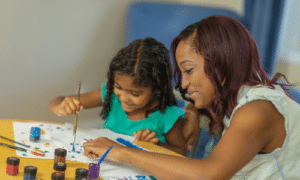 See for yourself how Growing Brilliant can help your family. Schedule a free class today!